Our 'Desire & Passion' from nature
Our small family winery, 'Lang-Wallner,' cultivates approximately 1.7 hectares of vineyards.
Naturally, this is in the context of a decades-long family tradition!
The individual vineyard sites extend across the NeusiedlerSee-Hügelland region from Mörbisch to Rust and Oggau, mostly on 2-5 row south-east-facing slopes.
Since 2017, we are also allowed to proudly present ourselves as a 'Master Craftsman Enterprise'!
With our PINK LADY, we have been delighting many of our guests and wine enthusiasts for years!

Our wine range includes a cross-section of national and international grape varieties, which are crafted into dry, semi-sweet, or sweet quality and predicate wines.
We work traditionally in stainless steel tanks, but we also allow our best red wines the time to mature in small oak barrels.
You can find the current wine price list here → in pdf format Wine Price List
We are thrilled with every order!!! We prefer to have a conversation with our customers, but if things get busy, you are welcome to place an order via email!
WALLNER'S WILD DELICACIES
You can taste Thomas's strong passion for hunting and his joy in processing the harvested game in the following products: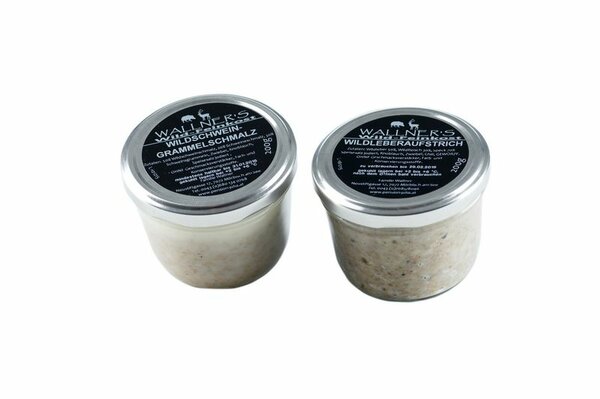 Game liver pâté
Game sausage
Smoked game sausages
Air-dried game sausages
Cured game ham
Wild boar (greaves) lard
Fresh meat (only by order) at Tom, at +43 664 218 61 69
With 'Chili Powder' and 'Hay Milk Emmental,' Tom always adds variety to his standard game product range.
The availability of our processed game products primarily depends on the legal hunting seasons and the success of the hunt.
We ONLY process game from local forests. And that's WITHOUT artificial flavor enhancers and WITHOUT preservatives. 100% natural.